Feature Films
In the Land of Saints and Sinners (Coming in 2023)
In a remote Irish village, a damaged Finbar is forced to fight for redemption after a lifetime of sins, but what price is he willing to pay? In the land of saints and sinners, some sins can't be buried.
Directed by Robert Lorenz and starring Liam Neeson, Kerry Condon, Ciarán Hinds, Colm Meaney, Sarah Greene and Jack Gleeson.
Assassin Club (2023)
An assassin is given a contract to kill seven people around the world only to discover the targets are also assassins who have been hired to kill him.
Directed by Camille Delamarre and starring Henry Golding, Noomi Rapace, Daniela Melchior and Sam Neil.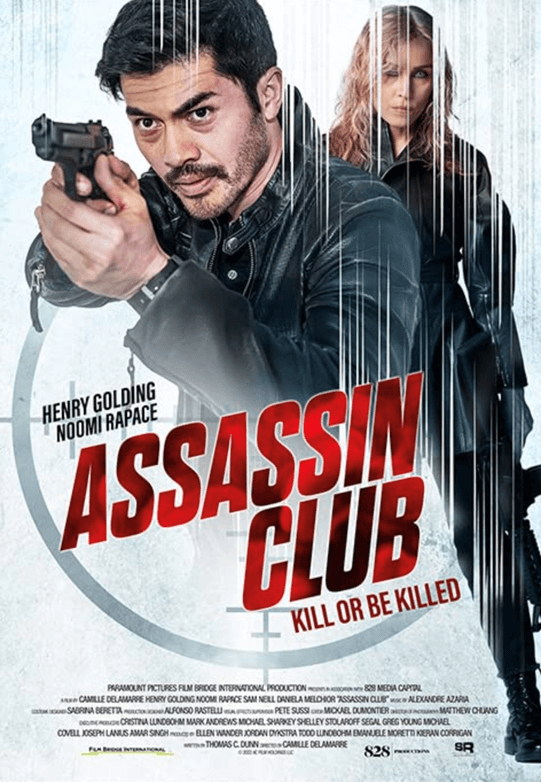 The Nan Movie (2022)
Catherine Tate's iconic character Nan hits the big screen as she goes on a wild road trip from London to Ireland with her grandson Jamie to make amends with her estranged sister Nell.
Directed by Josie Rourke, Written by Catherine Tate and Brett Goldstein and starring Catherine Tate, Mathew Horne and Katherine Parkinson.
Christmas at Castle Hart (2021)
Brooke Bennett goes to Ireland for Christmas to search for her Irish roots. While there, she meets Aiden Hart. Mistaken for an elite event planner, she's hired to host his castle's epic Christmas party.
Directed by Stefan Scaini and starring Lacey Chabert, Stuart Townsend, Ali Hardiman, Kate O'Toole and Sean McGinley.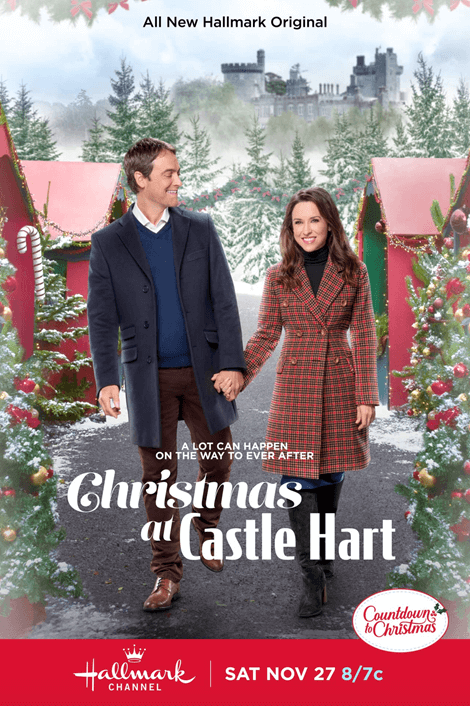 Supervized (2019)
Four aging superheroes in a retirement home in Ireland come together for one last hurrah.
Directed by Steve Barron and starring Tom Berenger, Elya Baskin, Beau Bridges, Finnoula Flanagan, Louis Gosset Jr and Fiona Glascott.
The Knight Before Christmas (2019)
A medieval English knight is magically transported to present-day America where he falls for a high school science teacher who is disillusioned by love.
Directed by Monika Mitchell and starring Vanessa Hudgens, Josh Whitehouse and Emmanuelle Chriqui.
We Have Always Lived in the Castle (2018)
Merricat, Constance and their Uncle Julian live in isolation after experiencing a family tragedy six years earlier. When cousin Charles arrives to steal the family fortune, he also threatens a dark secret they've been hiding.
Directed by Stacie Passon and starring Taissa Farmiga, Alexandra Daddario, Sebastian Stan and Crispin Glover.
Queen & Country (2014)
In 1952, Bill Rowan is eighteen years old and dreaming his life away at the family's riverside home, waiting to be called up for two years' conscription in the British army. His dream is shattered by the harsh realities of boot camp. There, he meets Percy, an amoral prankster. They are rivals and antagonist, but they gradually forge a deep friendship in the claustrophobic environment of a closed, prison-like training camp. The pressure is briefly relieved by excursions into the outside world, where they both fall in love. Finally, Bill is confronted with the shattered lives of wounded boys returning from Korea.
Written and directed by John Boorman and starring Richard E. Grant, David Thewlis, Caleb Landry Jones, Callum Turner, Pat Shortt, Tamsin Egerton, Sinead Cusack and Vanessa Kirby.

Waiting for Dublin (2007)
On New Year's Eve 1944, American pilot Mike Clarke inadvertently bets Al Capone's nephew $10,000 that he can shoot down five enemy aircrafts on his life. Later, a forced landing due to a fuel shortage sees Mike in a remote part of Ireland. Mike learns that communication with the rest of the world is not easy and that his hopes of re-joining the war effort (and winning his fatal bet) are slim. Stranded, he eventually befriends the eccentric villagers and meets the fiery Maggie. Mike and Maggie soon grow close as she shows him how to win his bet while winning her heart in the process.

The Tiger's Tail (2006)
John Boorman's The Tiger's Tail is the story of Liam O'Leary (Brendan Gleeson), an Irish property developer of humble origins, who has become wealthy and powerful on the back of the "Celtic Tiger", Ireland 's recent economic boom. His ambition to build a national stadium is being thwarted by a rival developer and Liam finds himself struggling in a recession-hit market. Under pressure and over-stretched, he seems on the verge of a nervous breakdown when, to his horror, he sees his double. As Liam searches for answers, his wife, Jane (Kim Cattrall), and son Connor (Brian Gleeson), anxious about his strange behaviour, believe his claim to have seen his double is an hallucination. Only his sister Oona (Sinead Cusack) and childhood friend Andy (Ciaran Hinds), a priest, believe him. When Liam eventually confronts his double, a shocking truth about his past is revealed to him, a truth that shakes his self-belief leading him and others to doubt his own identity.

Stardust (2006)
Stardust recounts the tragic Stardust nightclub fire of 1981 in Dublin, Ireland, in which 48 people lost their lives.
48 Angels (2006)
Seamus is a nine-year-old boy has been diagnosed with a serious illness. In search of a miracle, he sets off to find God and, inspired by Saint Columcille, launches a small boat without oars or sail. On his quest he encounters James and Darry, and despite initial differences, the trio set out on a moving journey that heals hearts and minds.

In My Country/Country of My Skull (2004)
This story follows the establishment of the Truth and Reconciliation Commission in post-apartheid South Africa, in which the perpetrators of racial violence and injustice must come face to face with their victims if they are to be forgiven for their crimes. Langston Whitfield (Samuel L. Jackson) is an African-American journalist who is assigned to cover these hearings by The Washington Post. As part of his brief, Whitfield pursues Col. De Jager (Brendan Gleeson) for an interview, a notorious former officer of the South African police who was famous for his violence against black people. Whitfield meets Anna Malan (Juliette Binoche), an Afrikaner poet who is also covering the hearing for a radio station and who is horrified by the details of the violence inflicted against her countrymen. Whitfield and Malan's friendship soon develops into something more as they each try to deal with the appalling revelations being made before them.
Nominated for Golden Berlin Bear for John Boorman at Berlin International Film Festival 2004
Nominated for Golden Spike for John Boorman at Valladolid International Film Festival 2004

Evelyn (2002)
Desmond Doyle (Pierce Brosnan) suddenly becomes a single father when his wife abandons their family on the day after Christmas. The authorities, with little sympathy for his plight, insist that he is not capable of caring for his three children alone. Against their wishes, the children are taken from their father and placed in institutional care. Although assured that his children will be returned to him when his financial situation improves, Desmond faces an uphill struggle during hard times to win them back. In the meantime, his children must suffer the cruelty and suffering that dominate their new 'home'. Desmond must fight for his own children and for the right to be their father.
Won Award of Distinction, Australian Cinematographers Society 2004
Nominated, Best Film, Irish Film and Television Awards 2003
Nominated, Audience Award for Best Irish Film, Phoenix Film Critics Society Awards 2003
Nominated, PFCS Award for Best Performance by a Youth in a Leading or Supporting Role
Sophie Vavasseur, Political Film Society, USA 2003

The Tailor of Panama (2001)
In The Tailor of Panama, John Boorman brings John LeCarre's spy thriller to the big screen. British spy Andrew Osnard (Brosnan) is banished to Panama following an indiscretion with an ambassador's mistress. Once there, he connects with a local tailor, Harry Pendel (Geoffrey Rush) with a dubious past and access to all the major political and criminal figures in Panama. The tailor, who is in serious financial difficulty, is married to an administrator to the Panama government. Osnard's mission is to gather senstivie information regarding the President's intentions for the Panama Canal. Osnard has no qualms in using Pendel to get what he wants, but the tremendous fictional tale which is then concocted may have more serious repercussions than anticipated.
Nominated, Golden Berlin Bear Award for John Boorman, Berlin International Film Festival 2001

The General (1998)
This tells the real-life story of notorious Dublin gangster and criminal Martin Cahill, who pulled off numerous daring heists in Ireland and headed a dangerous and powerful criminal gang. Cahill attracts unwanted attention from the police, the IRA, the UVF and members of his own team. In particular, his battle of wits with the Irish police is told brilliantly in this hard-edged but often hilarious drama.

This is My Father (1996)
A middle-aged teacher discovers photos from his mother's past that make him ask questions about his father. Travelling to Ireland in search of answers, a past romance slowly unfolds.
Beyond Rangoon (1995)
Laura is trying to pick up the pieces of her life after the murder of her husband and son, and goes on vacation with her sister to Burma. After losing her passport at a political rally, she is left on her own for a few days, during which time she falls in with students fighting for democracy. She and their leader, U Aung Ko, travel through Burma, whilst witnessing many bloody acts of repression by the dictatorship, in an attempt to escape to Thailand. Based on a true story.
Directed by John Boorman and starring Patricia Arquette, Frances McDormand.
Angela Mooney Dies Again (1991)
Angela Mooney (Mia Farrow) is a woman prepared to die for what she believes in – the local creamery, a business built up by her husband, that is about to be taken over by an American corporation. Angela is afraid that the American company will destroy the soul of the town but her view is not shared by the rest of the people, who are in favour of the buy-out. However, Angela's real reasons for resistance are revealed via flashback. Angela Mooney Dies Again is a bittersweet, melancholy look at the forces of modernization as they affect a small rural Irish community

Journey to Knock (1991)
Starring John Hurt, David Thewlis and Charles Simon, Journey to Knock humorously follows three men in wheelchairs on their pilgrimage from the North of England to the Holy Shrine at Knock, in the west of Ireland. in Co. Mayo. A blackly funny story of the resilience of the human spirit.

The Treaty (1991)
A faithful depiction of how the Anglo-Irish Treaty between the unrecognised Irish Republic, represented by Michael Collins, and the British government was concluded after high-stakes negotiations in 1921.